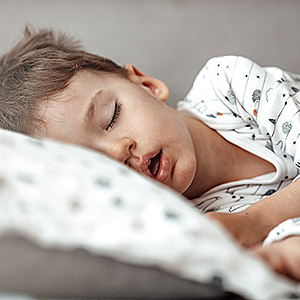 It's normal for your child to breathe through their mouth if they're winded from play, or if they have a stuffy nose from an occasional cold. But what if they're doing it all the time, even at rest? That could be a problem for their overall health—and their oral health as well.
Although we can breathe through both the nose and the mouth, our bodies naturally prefer the former. The nasal passages filter out allergens and other harmful particles, as well as warm and humidify incoming air. Nose breathing also helps generate nitric oxide, a highly beneficial molecule to physical health.
We switch to mouth breathing when we're not receiving sufficient air through the nose. For chronic mouth breathers, something has obstructed or restricted the nasal passages like allergies or enlarged tonsils or adenoids.
Mouth breathing especially can affect a child's oral health because of the relationship between the tongue and jaw development. During nose breathing, the tongue rests against the roof of the mouth (palate), where it serves as a kind of mold around which the growing upper jaw can develop.
When breathing through the mouth, however, the tongue falls against the back of the bottom teeth. If this becomes chronic, the jaw may develop too narrowly, depriving the incoming teeth of enough room to erupt and leading to a poor bite.
If you notice things like your child's mouth falling open while at rest, snoring, irritability or problems with concentration (associated with poor sleep due to blocked nasal passages), then consider having a doctor examine them for a possible nasal obstruction. You should also check with your dentist to see if your child's jaw development has been affected. If caught early, there are interventional measures that could get it back on track.
Even after correction of a nasal obstruction, a child may still find it difficult to readapt to nose breathing because of a "muscle memory" for breathing through the mouth. In that case, they may need orofacial therapy to retrain their muscles for nose breathing.
It's important to stay aware of any signs of chronic mouth breathing with your child. Diagnosing and treating the condition early could help them avoid other problems later in life.
If you would like more information on the effects of mouth breathing on jaw development, please contact us or schedule an appointment for a consultation. You can also learn more about this topic by reading the Dear Doctor magazine article "The Trouble With Mouth Breathing."